Swedish saviors of heavy metal HAMMERFALL let the hammer strike again with their twelfth studio album, Hammer of Dawn, set to be released on February 25, 2022 via Napalm Records! The album's release is preceded by the arrival of the first single and title track, "Hammer of Dawn," accompanied by a music video filmed at Liseberg amusement park in Gothenburg, and by famed director Patric Ullaeus.
As one of the main forces in heavy metal, HAMMERFALL have dominated not only the Swedish album charts, but album charts across Europe throughout their extensive career, while earning gold status thrice. Faced with the daunting task of following up the band's last studio album, Dominion, an album that fans and critics hailed as one of the band's strongest releases, HAMMERFALL collectively met the challenge head on and have delivered what many early listeners are predicting as the best metal album of 2022 and a high point of the band's catalogue.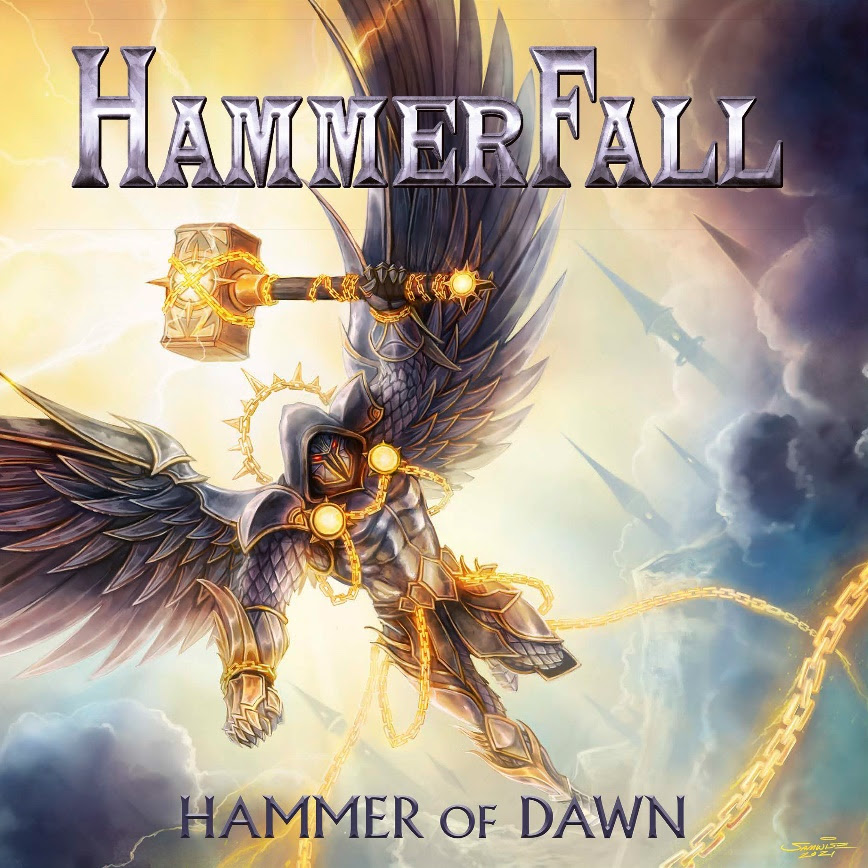 Hammer of Dawn tracklist:
1. Brotherhood
2. Hammer of Dawn
3. No Son of Odin
4. Venerate Me
5. Reveries
6. Too Old to Die Young
7. Not Today
8. Live Free or Die
9. State of the W.I.L.D.
10. No Mercy
Hammer of Dawn starts off with remarkable opener "Brotherhood", a hymn echoing the deep connection of bandleaders Joacim Cans and Oscar Dronjak with their loyal Templars of Steel worldwide. Other tracks on the album present one smasher after another, with songs like "Reveries", "No Son Of Odin" and "Venerate Me" – the latter featuring an appearance by none other than King Diamond – making sure it will go down as another milestone in the career of the Swedes.

Hammer of Dawn was produced by long time collaborator Fredrik Nordström (In Flames, Opeth etc), who handled mixing, mastering, drum recording, and shared the duty of recording guitars and bass with Pontus Norgren and Oscar Dronjak. Jacob Hansen (Volbeat etc), produced the lead vocals.

When HAMMERFALL released their debut album, Glory To The Brave, in 1997, it signaled the second coming of heavy metal… Since that very day, HAMMERFALL has proudly flown the heavy metal flag high and while doing so have influenced a generation of musicians. They have also left a twenty five year long trail of classic timeless music, sold out shows and an army of loyal fans, aka the Templars Of Steel, in their wake. Rest assured everyone, that legacy continues and in fact strengthens with the arrival of Hammer of Dawn.



HAMMERFALL live
Fans can already look forward to seeing Hammer of Dawn live, as in 2022, HAMMERFALL will go on an extensive co-headlining tour through Europe, together with German metal stars Helloween.
 
UNITED FORCES TOUR 2022
25.03.22 NO – Oslo / Sentrum Scene
26.03.22 SE – Göteborg / Partille Arena
28.03.22 FI – Helsinki / Black Box
29.03.22 EE – Talinn / Noblessneri Valukoda
01.04.22 DE – Bamberg / Brose Arena
02.04.22 DE – Hamburg / Sporthalle
03.04.22 DE – Berlin / Verti Music Hall
04.04.22 DE – Regensburg / Donau Arena 
08.04.22 ES – Madrid / Wizink Center
09.04.22 ES – Barcelona / St. Jordi Club
11.04.22 IT – Milan / Lorenzini District
12.04.22 DE – Kempten / Black Box
13.04.22 CH – Zürich / Samsung Hall
15.04.22 LU – Luxemburg / Rockhal
16.04.22 NL – Tilburg / 013
18.04.22 PL – Katovice / MCK
20.04.22 BG – Sofia / Arena Armeec
22.04.22 AT – Vienna / Gasometer
23.04.22 CZ – Prague  / O2
24.04.22 SK – Zvolen / Ice Stadium
26.04.22 HU – Budapest / Papp Laszlo Sportarena
29.04.22 DE – Bochum / Ruhrcongress
30.04.22 DE – Stuttgart / Schleyerhalle
01.05.22 DE – Frankfurt / Jahrhunderthalle
04.05.22 UK – Manchester / Manchester Academy
05.05.22 UK – London / Brixton Academy
HAMMERFALL are:
Joacim Cans – Vocals
Oscar Dronjak – Guitar
Pontus Norgren – Guitar
Fredrik Larsson – Bass
David Wallin – Drums