El nuevo Sencillo "Steady Blows To The Head" estará disponible 9 De Enero De 2023.
El 27 de abril de 2023, Savage Existence presentará su álbum homónimo: honesto, violento, maravilloso y todavía loco salvaje.
Como seguimiento de su álbum de 2021 'Animals', el próximo álbum es Justo lo que necesita un verdadero metalero.
Y antes del lanzamiento del álbum, se emitirá un sencillo para la canción "Steady Blows to the Head", el 9 de enero de 2023 (con un video de la canción que se publicará el 19 de enero).
SAVAGE EXISTENCE
Formada en Costa Rica por Daniel Cleland (guitarras) y Jesse Radford (batería), ambos empresarios de Canadá, y el cantautor Anton Darusso. A ellos se suman Daniel Ramos (bajo) y Andés Castro (guitarras).
"Savage Existence revisita el groove metal de la vieja escuela con elementos del metal estadounidense, el death metal y el rock sureño, con letras que hablan sobre problemas de la vida real y preocupaciones relevantes de la actualidad", así describe Cleland el sonido del grupo.
"Hicimos el nuevo álbum homónimo Savage Existence como una unidad totalmente colaborativa, más experimentada y mejor equipada que la primera grabación. Grabamos con Logan Mader por segunda vez, pero accedimos al equipo de primer nivel en The Hideout, Skeleton Key y los estudios personales de Logan en Las Vegas. Hay solos de guitarra más viciosos, arreglos generales más complejos para las canciones y, en general, sentimos que este álbum muestra una mejor composición. ¡Realmente espero que la gente acepte y ame este disco!".
"Logan Mader es, por supuesto, uno de los pioneros del groove metal de los 90, y ha producido álbumes debut para bandas de gran éxito como Gojira, Five Finger Death Punch, Devildriver y Cavalera Conspiracy. Así que tenerlo en nuestro rincón ha sido un gran activo".
Y aunque su lanzamiento aún está en el horizonte, Cleland ya tiene algunas pistas favoritas. "Personalmente, mis canciones favoritas son 'Cull', 'Matricide' y 'Enigma'. Me encanta la brutalidad y las letras en tu cara de 'Cull'. Me encantan los riffs melódicos pesados de 'Matricide' junto con los dos solos de guitarra de Gary Holt. Y me encantan las letras filosóficas de 'Enigma', junto con otro solo de Gary Holt. Sin embargo, otro par de canciones increíbles con grandes coros y riffs son 'Leap of Faith' y 'Standing in Flames'".
Por último, ¿cuáles son los planes de Savage Existence una vez que se lance el álbum? "¡Dominación mundial! Sin embargo, estamos haciendo algunas giras por América del Sur mientras esperamos que lleguen nuestras visas de EE. UU., y planeamos hacer una gira por Europa este verano.
¡La idea es apoyar nuestros próximos lanzamientos con al menos un año de gira!".
ALBUM TRACK LIST
1. Still Life
2. Steady Blows to the Head
3. Cull
4. Dumpster Water
5. Leap of Faith
6. All on You
7. Independence Day
8. Enigma
9. Standing in Flames
10. Matricide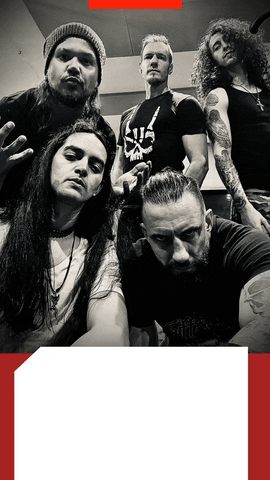 PRE SAVE NOW
Con información de Chipster PR & Consulting, Inc